Recently Undertaken Degreasing, Passivation and Electropolishing on 100,000 Litre tanks. It is the only project of its scale in this field in Ireland and is a monumental feat both for us and the Irish Electropolishing landscape. We are proud to offer this for domestic and international markets onsite at our Charleville plant.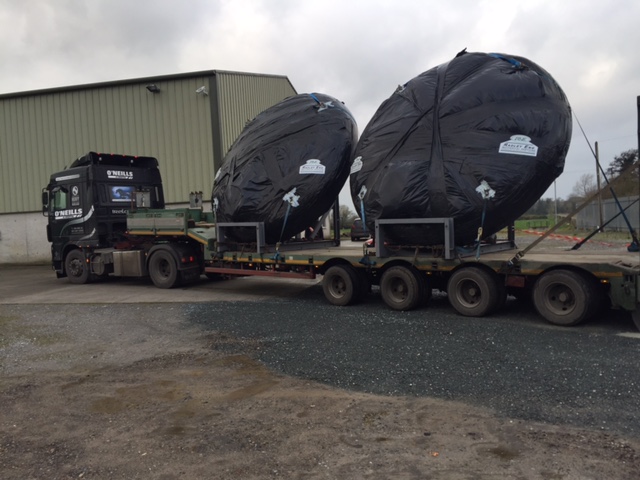 *to see the specifications and more photos please visit Here
Recently Completed Electropolishing at Willowchem 
In-House Passivation Centre
  

        

Willowchems updated In-house Passivation Centre
The newly upgraded In-House Passivation Centre will enable Willowchem to complete a larger scope of work more efficiently whilst complying with ASTM Standards.  Please see images below.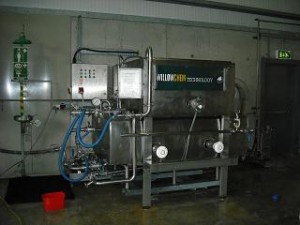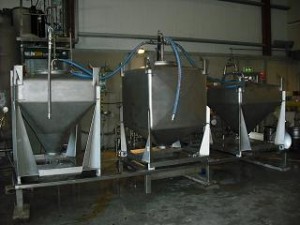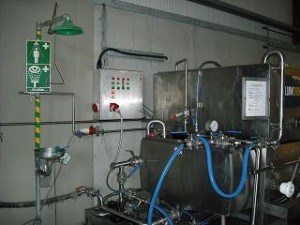 Positive Material Identification Service
Willowchem Technology (Ireland) Limited is now offering a Positive Material Identification Service as part of the wide array of services that the company already provides.

NEWSLETTER

Willowchem Technology (Ireland) Limited have added the following new service

"Positive Material Identification Service"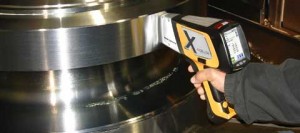 OBJECTIVE
While engineers push the boundaries of material capacities to their limits in the design; traceability of material becomes ever more important.  In addition to compatibility issues, several other reasons can exist for material specification including design, corrosion, resisitance and compliance with codes and standards.
Quality procedures are put in place to document materials as they are received and as they move through the production process, but what happened to those raw materials before they arrived at the receiving dock?  Each time raw material changes hands – from mill to service centres , from processing plants (i.e pipe, tube, fittings) to subcontractors – the opportunity for error increases, resulting in questionable material quality.  If you have ever had the following problems then we have the solution for you:-
Trouble Identifying Materials
Traceability Issues
Unsure of Equipment Material Composition
Misplacement of Material Certification
SOLUTION
With Positive Material Identification (PMI) the alloy composition, and thus, the identity of materials can be determined in a very quick and non intrusive way.  PMI uses X-ray diffraction to identify the elements present in a specific material and the percentage amount of each element present.  All results are instant and full rports will be provided by our highly trained operators at Willowchem Ireland.  The disengaged raditaion is very low and extra safety means are unnecessary.  The important advantages of the XRF method is that it is a Non Destructive Test (NDT) method and is executed without damaging the material and the plant / item in question does not have to be switched off for analysis to be carried out.  This can be used in a variety of different industries which have material identification issues.
The only requirement is that the item to be identified is clean and free of dirt and grease.
Over the past year or so Willowchem Ireland has progressed further and has polished a wide variety of vessels ranging from 25 litre to 25,000 litre.  These projects have been very successful and our customers are extremely happy with the results.  This has lead to the company securing further projects from similar industries and also the addition of new cliental to our customer base.

We are currently in the process of completing a number of degreasing and electropolishing projects for a wide variety of clients.

Below is a sample selection of the various sized items which have been completed from March to September 2011.

      25 Litre Vessel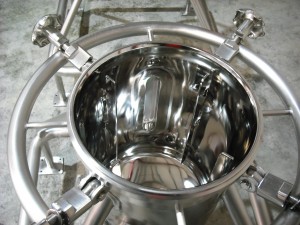 300 Litre Vessel                                                         600 Litre IBC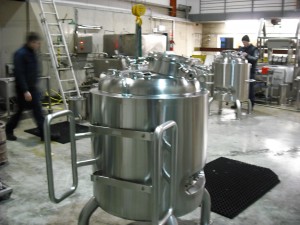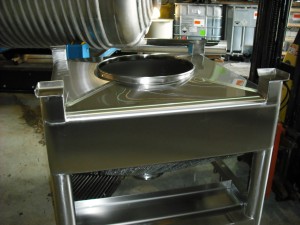 10,000 Litre Vessel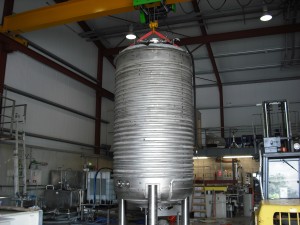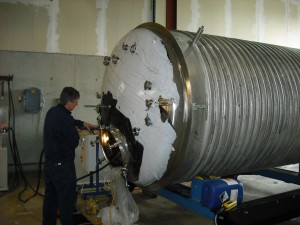 25,000 Litre Vessel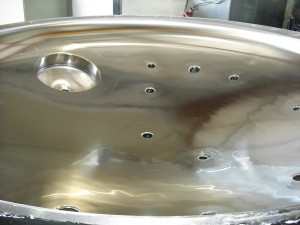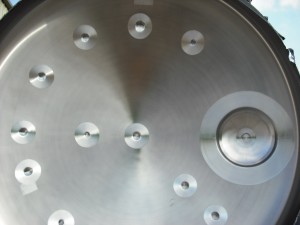 900 Litre IBC
DEROUGING OF PUMPS – Before & After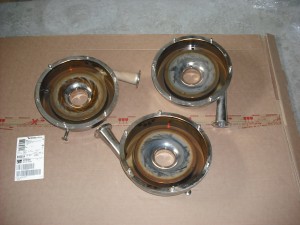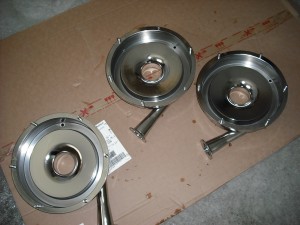 FABRICATION & POLISHING of Specialised Wash Racks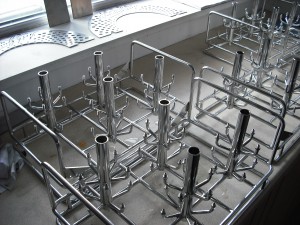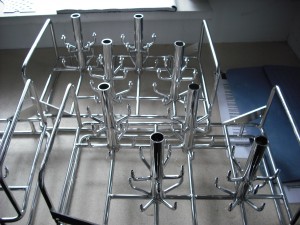 Please see below an image of 2,500 litre Vessels that were electropolished at our premises recently..

There was a total of 3 no. Vessels completed.
Carbon Filter Tank Cleaning at Heineken
The following photographs are of Carbon Filter Tanks at Heineken Ireland.that we recently chemically cleaned by Willowchem.

The chemicals used to complete this were Willowchem 60, Willowchem 61 and Willowchem BioPass.

CARBON FILTER TANKS BEFORE CLEANING
Electropolishing of Pressure Vessels at Willowchem Ireland Limited
Since being ready and open for business back in October 2007 Willowchem Ireland has increased from strength to strength and been kept busy chemically and electrochemically processing all types of fabrications, components and assemblies.

Over this progressive period many of the projects taken on board included the internal electropolishing of relatively small pressure vessel of between 50 – 500 litres. With well documented procedures and controls, including pre cleaning and post passivation treatments, Willowchem Ireland found their past experience within the Pharmaceutical industry to be priceless with the knowledge of the high level demands expected, especially with written procedural documentation.

​
 
Willowchem Ireland Limited then moved onto even larger vessel of approximately 1000 litres
After cutting their teeth on over 25 units, Managing Director Billy Curtin decided, in August, that it was time to progress to the next level by taking on a project with 2 vessels of 5000 and 6000 litres respectively. Whilst not being afraid to tackle these larger vessels with the assistance and consultation of associates, the project was even more testing by the fact that the vessels were already completely assembled and the time allocated to process them was over a weekend. Delivered Friday evening and required back to the customer by Monday lunchtime, the challenge was taken on board and the commitment given with only a week's notice, of the vessels arriving.
Engineering details of the fixturing concept were speedily implemented and the complete design was manufactured within 4 days. A detailed method statement and process procedure was drafted and all necessary safety equipment sourced, being onsite prior to the expected delivery. All the raw materials such as product chemistries, applicators, cables, cathode and Busbar materials were already onsite and the loan of an adjustable bed rotating rollers system was secured during this short notice period. The quality of fixture and jigging build makes the process a whole lot easier when manufactured with precision.
Unloading and positioning of the vessels for each step was carried out with precision as the wet processing area in Willowchem Ireland is fitted with a modern, fully motorized 5 tonne over head hoist system and the staff rigging and banksman skills are second to none.
After degreasing with Willowchem Cleaner 61, the nimble athleticism of the staff and operators was required to fit a cathode assembly fixture at each stage of the electropolishing procedure. In these difficult conditions, the conscientious and dedicated nature of the workforce ensured that great care was taken at each stage not to mechanically damage both before and after processing.
Finally the vessel was positioned on it legs in the upright position to desmut and passivated with Willowchem 70, followed by thorough rinsing and allowed to naturally dry with the assistance of clean compressed air.
The exercise was a complete success with the first vessel collected Sunday afternoon and the second Monday afternoon. The customer was fully satisfied with both the surface finish and service and has promised more large vessel projects, already in hand in the near future.